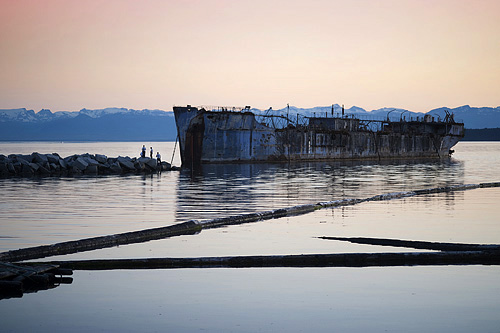 "There on the left, is that it?" Driving along the Powell River Coastal Road, I am looking for The Hulks, an unusual breakwater constructed from the hulls of old ships. The light is fading fast, but with the best weather for weeks I am keen not to miss my opportunity. "Yes there they are through the trees, directly below". Seeing the outline of a footpath, I park up, grab my gear and head off through a band of woodland, only to shortly be confronted by a cliff top. Traversing round leads me to a descending track heading in the right direction. Time is running out with barely enough light to find my way, let alone take photographs. Finally I am close to the waters edge with only a couple of chain link fences between me and my shot. No problem. A quick sprint later and there it is, the ideal vantage point with a clear view across the bay towards one of the ships. There is even some tourists taking photographs from a rock breakwater, ideal to show scale. Although the sun is now well below the horizon, there is still enough warm light to silhouette the Hulks against the night sky. Perfect! With the shot taken, it's now pitch black. I have no idea where my car is, no way to retrace my steps back through the woods and no chance of getting accommodation this late. And I wouldn't swap it for anything!
OK, so I'm not a writer, but hopefully my point has been made. I have spent many hours waiting for subtle changes in light, walked and climbed all day to gain the perfect viewpoint and even been arrested for acting suspiciously near a power station. When it comes to photography, I am very focused on getting the best results for my customers.
Photography has been my livelihood for 28 years, 25 self employed. More importantly it is still my passion.
Clients: Adera Stone / Alan Mann Helicopters / ASAP Avionics Services Ltd / Bakken Construction / BC Homes / Bentall Realty / Concord Pacific / Coverite Ltd / CPR Ltd / Day England Stevenson Marsh / Final Touch Window Coverings / Futuristic Stainless / Gardenwise / Geometrik / Go West RV / IBI HB Architects / Jonathan Morgan & Co / Maisond'etre / McDonald & Ross Construction / Old World Kitchens / Plain Design / RJR Construction / Sigma Aerospace / Spring Advertising / Solus Decor / Stirling Medical / Tugboat Media / Vancouver Coast & Mountain / Vector Aerospace
109 – 3294 Mt Seymour Parkway
North Vancouver
BC, V7H 0B1
Tel: 604 618 9448
email: info@bobyoungphoto.com
web: bobyoungphoto.com